Almost every draft you hear about a wildcard player, and he is a wildcard because he is either Russian, or he has "character issues". Sometimes, it's even both (Kirill Kabanov). In some cases, like Kyle Beach, the doubt is warranted, shooting a puck at a fan is just bad. Other times though, I think teams need to take a closer look for a couple of reasons.
COCKINESS IS CONFUSED WITH CONFIDENCE
In hockey, more so than any other professional sport, turns on players that aren't generic score, smile at your teammates (but not too big of a smile, more of a smirk), and skate to the bench types. If a player celebrates really hard, he's a showboat, and you don't want that, if he say's anything other than a one word answer or a simple "we gave 110%" response, he's cocky… Unless he is already on your team of course, then he is just plain awesome and "hilarious".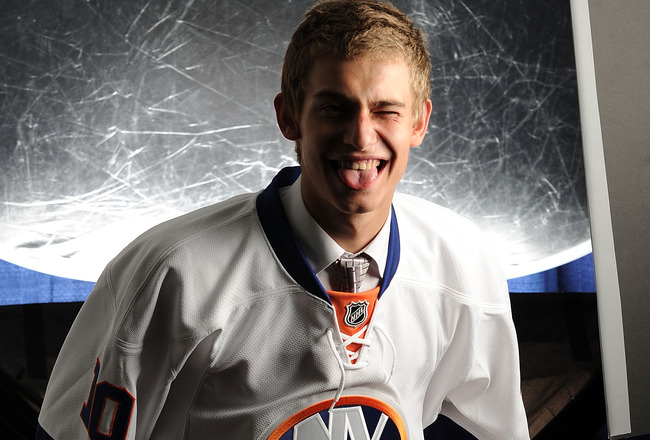 PLAYERS DRAFTED INTO THE NHL ARE NORMALLY 18 YEARS OLD
A term that is often used it a player isn't really mature yet, sometimes they mean physically, sometimes they mean as people. Though really, only a select few people are fully matured at only 18 years old, it's not like the NFL draft where they are 22/23 years old. Most of these young hockey players have been superstars everywhere they played in their lives; of course they might not be the most humble people. Though it is a pretty humbling experience when you are not fully committed to hockey, you do nothing in the NHL, and suddenly have to work your ass to keep up.
WHEN A PLAYER HAS THEIR "RUDE AWAKENING" AND HIT ROCK BOTTOM, THEY WON'T WANT TO BE THERE AGAIN
Sometimes even successful people need to hit rock bottom before they realize how good they have it, hockey players are no different. Look no further then Maple Leafs prospect Matt Frattin, who got kicked out of the University of North Dakota for a while after drinking problems, got a job pouring cement, then came back with a vengeance. Or St. Louis Blues forward David Perron, who didn't even make the "A" team in midget because of his immaturity, so he shut his mouth, and is now on the way to stardom.
Yes, some people just are messed up, and don't have what it takes mentally to play in the NHL, but loads of players are just tossed to the side undeservingly.